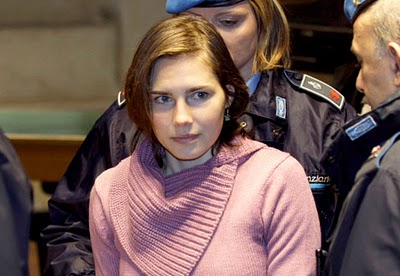 Amanda Knox
Meredith Kercher was murdered in Perugia Italy, November 1, 2007.  Her murder changed many lives forever. For Amanda Knox and Raffaele Sollecito, it was the beginning of a long drawn out nightmare that would drag on for 1427 days. On November 6, 2007, Amanda Knox and Raffaele Sollecito were taken into custody (for their alleged involvement in Meredith's murder), where they would remain until finally being declared innocent on October 3, 2011.
In the days following their arrest, much of the world thought that Amanda  and Raffaele  were guilty. As disturbing details of the case began to emerge suggesting that an injustice had occurred, support would slowly build for the two, eventually developing into a powerful force that was impossible to ignore. I have no doubt that Amanda and Raffaele's nightmare would have gone on far longer without the help of those who came forward to voice their opinion about the case.
The positive showing of support observed for Amanda and Raffaele has been carelessly misrepresented by the media, often suggesting that the support was orchestrated by a PR firm at an estimated cost of one million dollars. These ridiculous rumors all stemmed from the fact that Amanda's parents hired a PR firm headed by David Marriott to organize interviews with the press, essentially working as a buffer between the family and relentless journalists. The agreement with Marriott has never been discussed publicly so the million dollar estimate parroted by the media is fabricated nonsense.
The truth is the support for Amanda and Raffaele stemmed from many individual voices that stood up against an injustice. This support was spear-headed by a small group early on that would become known as "Friends of Amanda" (FOA). FOA was founded by filmmaker Thomas Wright of Seattle, WA, consisting of only 4 people early on; Thomas Wright, Judge Michael Heavey, Attorney Anne Bremner, and Jim Lovering. The group expanded to 5 when Dr. Mark Waterbury officially joined after already independently completing extensive work on the case. Investigator Paul Ciolino and best selling author Douglas Preston have also been steadfast contributors to FOA by working to spread the truth about the case through interviews and television segments, including a 48 hours documentary.
When FOA first got off the ground, they faced overwhelming opposition. The world was being fed lies and misinformation at record speed by the press eager for headlines but that would not deter FOA's efforts. Anne Bremner became the face for FOA, conducting hundreds of interviews on TV and radio, taking rapid fire questions on the case, setting the record straight one interview at a time.
Tom Wright worked extensively behind the scenes to correct the misinformation that circulated about the case throughout the media. He also helped to coordinate the defense fund effort for Amanda Knox, as well as organizing a public forum titled "Amanda Knox: the case for innocence" at Seattle University in April 2011, that featured speakers Tom Wright, Candace Dempsey, Mark Waterbury, Steve Moore, and Paul Ciolino.
Jim Lovering was given the colossal job of organizing the case files so that key elements could be properly presented to the public. Jim did a masterful job of completing this task, working with Tom Wright on friendsofamanda.org, along with many documents and PDF files that presented the evidence in a manner that was easy to understand. Besides everything that Jim has done in view of the public, much of his work was done behind the scenes, providing information and advice to others that contributed to the cause. There is no one that has done more for Amanda and Raffaele than Jim has. I would have accomplished very little without Jim's guidance and support and I know that many others feel the same.
Judge Michael Heavey is a King County Superior Court Judge, in the state of Washington. Judge Heavey wrote several letters to the Italian council that regulates judges, in 2008, to ask that the case be moved out of Perugia and to protest leaks from the prosecutor, police and prison officials to the tabloid press. Judge Heavey also contributed to an open letter sent to President Obama asking him to take a closer look at the case. Judge Heavey has been one of Amanda's most outspoken supporters and a strong voice for FOA.
Dr. Mark Waterbury is a scientist and engineer that provided invaluable information to the public early on that was not being made available anywhere else. Mark's analysis of the DNA opened many eyes and helped to bring a great deal of support to the cause. Mark presented his analysis on his website Science Spheres, and is also the author of "Monster of Perugia: The framing of Amanda Knox."
Friends of Amanda clearly led the charge for innocence in 2008-2009, with their acronym "FOA" becoming the brand most used by the media when describing anyone who voiced support for Amanda and Raffaele.
In December 2009, despite the efforts of their supporters, Amanda Knox and Raffaele Sollecito were wrongfully convicted for the murder of Meredith Kercher in Perugia, Italy. They would be granted two appeals but would have to wait until late 2010 for the first appeal to get underway.
I did not become involved until shortly after the verdict. I have been asked many times how I became involved with the case. The truth is I do not know if I can pinpoint one specific detail that drew me in. I believe it was a culmination of many factors that just became too overwhelming for me to overlook. After hearing the verdicts, I knew that I needed to do something to help two innocent people that had been wronged by many.
When I began to further my research I realized that the case for innocence had already been well documented online but the information was a bit scattered. I had a vision early on to bring all of the information together in order to create one powerful voice for Amanda and Raffaele.
First I needed to become acquainted with those who had been fighting the battle for two years before I had even thought to help. Facebook was the fastest and easiest way to get in touch with all involved. Through Facebook, I became acquainted with Jim Lovering, Mark Waterbury, Ray Turner, and many others that had supported Amanda and Raffaele from the beginning. If I had any doubt about the innocence of Amanda and Raffaele, it was eliminated after these friendships were established. From that point on, I was looking at case evidence in far greater detail than the limited information provided by sound bites heard on the nightly news. Unfortunately, this information was not being heard nearly enough by the general public.
In early 2010, I founded a grassroots organization that would work diligently to further expand the support network for Amanda and Raffaele. This organization would become known as Injustice in Perugia (IIP). The group was born on Facebook, as the setting providing a good platform for people to gather. In March 2010, Injustice in Perugia would be introduced to the world when the organization's website InjusticeinPerugia.org was launched.
The IIP website is the most comprehensive source for information on the Amanda Knox Case, effectively exposing the flawed evidence used during the first trial. We were confident from the beginning that the DNA evidence would be proven useless if it was subjected to independent testing (these tests were denied by Judge Massei during the first trial). IIP worked to expose the flawed evidence and to highlight the importance of independent DNA testing.
As the Facebook discussions continued to flourish, traffic to the IIP website also continued to increase. Our early success caused me to be even more eager to get the message out to an even larger audience. Many articles were being written about the case almost on a daily basis, and underneath those articles you could almost always find a comment section giving readers the ability to chime in. As I discussed in "Injustice in Perugia," those comment sections were often dominated by Anti-Knox posters. Several key Amanda Knox supporters such as Joseph Bishop, Mary H, and Jim Lovering, were putting up a good fight but they needed far more support. IIP would do what we could to offer that support. In doing so, we also took the opportunity to advertise the IIP website driving in a great deal of traffic. Our job was to bring the truth to the public and this was a significant step forward.
In April 2010, IIP took another significant step forward when retired FBI Agent Steve Moore came aboard to offer his expertise. Steve introduced himself by writing a series of articles for the IIP website and soon after began making appearances on every major news network in America and several in the United Kingdom. He has been frequently interviewed about the case ever since, most recently in Perugia while attending the final court hearings. Thanks to Steve Moore, IIP's message has been heard worldwide.
Steve Moore
The influx of intelligent people was invigorating. The growth of IIP energized me to reach out for even more support, beyond that of which we were already receiving on Facebook and the IIP website. In May 2010 the Injustice in Perugia Forum was created to reach out to those speaking independently online using other means, as well as to reach out to others that might be looking to join the discussion. Today the forum has over 1000 members and contains vast amounts of information about the case. The forum has also attracted several translators, who have helped out greatly, including translation of the Conti-Vecchiotti report, detailing the flawed DNA evidence in the case.
In July 2010, IIP began collecting letters for Amanda and Raffaele on the Free Amanda Knox and Raffaele Sollecito Facebook cause page. The page currently has nearly 2400 members. It has been an amazing experience hearing feedback from Amanda and Raffaele's family members regarding the impact of the letters, and supporters have also received many heartfelt letters in return from Amanda and Raffaele expressing their appreciation.
In September 2010, IIP introduced Forensic Engineer Ron Hendry. Ron completed an extensive analysis of the crime scene using crime scene photographs and video footage that provided invaluable information to IIP readers. Ron's analysis gave readers an easy to follow presentation showing conclusive proof that Meredith was not killed in the manner described by the prosecution.
In March 2011, IIP wrote a series of articles that were posted on several citizen journalist websites. In these articles,  IIP took on the architects of the "Foxy Knoxy" myth, exposing the horrendous reporting of Andrea Vogt, Barbie Nadeau, and Nick Pisa. IIP also stood up to the Anti-Knox hate groups led by Peter Quennell and Peggy Ganong, effectively diminishing their campaign.
Unfortunately, there was a time when the Anti-Knox groups were respected by some  as a source for information pertaining to the Amanda Knox case. After the first trial ended, both Quennell and Ganong were interviewed by the media as if they were experts. This was before IIP exposed the truth about their reprehensible behavior. After the verdict came in on appeal declaring Amanda and Raffaele innocent, Quennell and Ganong were interviewed by no one. Once the truth was well known, the Anti-Knox groups were too toxic for even the yellow journalists to approach.
Many other supporters have written articles that have been featured on the IIP website as well as several citizen journalist sites, newspapers, and magazines. Writers include, David Anderson, Joseph Bishop, Chris Halkides, Ron Hendry, Jason Leznek, Jim Lovering (a.k.a. Charlie Wilkes), Grace More,  Karen Pruett, Michael Scadron, Nigel Scott, Dr. Mark Waterbury, and Michael Wiesner. The combined effort provided a constant flow of information online, helping to counter the small pack of yellow journalists that refuse to see the truth to this day.
Many projects were taken on by IIP to spread our message. The group wrote letters to every member of Congress as well as to their local politicians. We actively worked to counter negative comments online, as well as contacting news outlets, that often report misinformation, politely asking that corrections be made. We did what we could to improve the Wikipedia article on the case, and supported Italian journalist Frank Sfarzo who has faced constant pressure for the past four years. We worked behind the scenes encouraging experts to come forward to help the defense as well as helping with translation when possible.
Friends of Amanda and Injustice in Perugia came together as one powerful voice, tirelessly working hand in hand to achieve one goal; freedom for Amanda and Raffaele.
During the appeal trial closing arguments, Prosecutor Giuliano Mignini spent twenty minutes telling the court not to listen to the support groups for Amanda and Raffaele. Without mentioning anyone by name, Mignini went on to describe Steve Moore and the websites for IIP and FOA, telling the court that we were not to be trusted. The truth is if he did not think we made a major impact he would have never mentioned us in the first place. His baseless warning came too late. Our message had already been heard loud and clear.
We will never know to what extent outside pressure may have influenced Judge Hellmann's decision to appoint independent experts to take another look at the DNA evidence on appeal, but one thing is certain, Injustice in Perugia's wish was granted. The DNA evidence that once condemned Amanda and Raffaele would have an opposite affect on appeal, all but guaranteeing freedom for the two.
On October 3, 2011, Judge Hellmann spoke loud and clear when he declared that Amanda Knox and Raffaele Sollecito are innocent. They had absolutely nothing to do with Meredith Kercher's murder.
In the case of the murder (and the sexual assault, transporting the knife, and theft), Amanda and Raffaele were acquitted "for not having committed the act."
With regard to the charge of staging a burglary, Amanda and Raffaele were acquitted "because the act does not exist." (Hellmann's court ruled that the burglary was not staged)
I only touched on the details regarding the support that Amanda and Raffaele received. You can read more about the grassroots effort in my new book "Finding Justice in Perugia (Kindle)."  The book follows the case throughout the appeal, detailing the side shows along the way. The book also includes many heartfelt messages from contributors that gave selflessly to a cause they believed in.
Click here for the paperback edition.
Now that Amanda and Raffaele are free, there is no longer a need for Injustice in Perugia to remain active. The website will remain online for those seeking information on the case but updates will soon stop as it is time to move on. Even though our work is done with this case, it does not mark the end for our group. We will soon begin our next project, reaching out to bring more knowledge and attention to wrongful convictions all around the world. We will soon launch the website www.injustice-anywhere.org and we will start out once again to gather support for our new group "Injustice Anywhere."
Wrongful convictions occur all around the world. We must do more to prevent the unjust imprisonment of innocent people, and in doing so, we must focus on the larger picture, not just the cases we see highlighted on television. There are many similar cases that go mostly unnoticed, but are of no less importance than any case that happens to attract the attention of the media.
Please do not turn your back on this growing problem. Please take the time to learn more about wrongful convictions and be sure to check out injustice-anywhere.org for news and updates. Together we can all make a difference.